<! -- BEGIN [CONTENT] -->
CData Arc (formerly RSSBus) Released!

The latest CData Arc 2019 release is a significant evolutionary update. Building on a robust foundation of integration features, this release further refines the user experience for building and managing workflows and extends CData Arc with powerful connectivity features.
New 2019 Features and Updates
Some of the latest CData Arc 2019 updates and new features include:
Workspaces — easily organize and add new flows
New data source triggers — simplify data replication across workflows
Embedded Web server (Java edition)
New connectors, including Microsoft Dynamics 365 NAV and Microsoft Project
New FTP Server Connector
Performance improvements through bulk/batch data transfer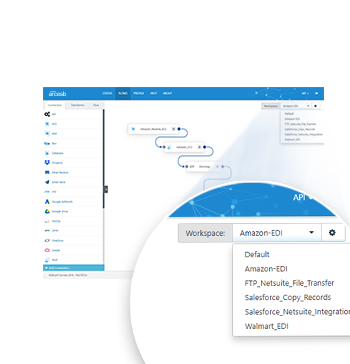 Workspaces
Now it's easier than ever to scale with CData Arc, onboard new partners, or add new workflows and application integrations.
Our new workspaces give you as many canvases as you want to map out and organize workflows.
You get the freedom and flexibility to separate and add new integration workflows into distinct workspaces, so you can clearly see exactly where your flows start and stop.
Sync Automation Triggers
With our new automated triggers, you can set up convenient, continuous data flows at the click of a button. Now, you can trigger automated data replication using true/false flags and date-updated fields — auto-update your records; configure in minutes.
When records are added or updated in one place, CData Arc can sync that data into your other applications or systems, kicking off automated processes. For example, if you receive EDI purchase orders, you can automatically send updates of the new purchase orders to your partners and update transaction histories in your back-end systems.
Embedded Web Server (Java)
CData Arc 2019 makes cross-platform Java deployment even easier. New to our Java edition, we have included a fully-embedded Java web server. No need to turn to separate solutions like Tomcat or Jetty (though we still support them), just easily spin up the embedded Java web server and deploy CData Arc anywhere you like, including in containers.
Secure FTP Server
Now you don't need to worry about setting up a separate FTP Server or relying on partners to have one. CData Arc lets you easily set up and host your own FTP Server - right inside CData Arc. This convenient, powerful addition provides you a more seamless, end-to-end experience and adds to our FTP managed file transfer connectors.
New Connectors and Improvements
We've launched more connectors since our last release, only available in our 2019 edition:
Microsoft Dynamics 365 NAV
Microsoft Project
SOAP APIs
SugarCRM
Excel Tables
GISB
XML Map
In addition, as we're always honing our performance. CData Arc is faster and delivers higher performance than ever!
Download The New Release Today
Download CData Arc 2019, the fastest & easiest way to connect your partners, applications, and data across your organization:
<! -- END [CONTENT] -->