<! -- BEGIN [CONTENT] -->
Connectivity is Critical in Low-Code/No-Code Success
As organizations undertake digital transformation initiatives, they often require a new wave of custom applications to power their businesses, placing unprecedented demands on IT departments. In response, IT teams have tapped low-code/no-code app development platforms like CData Arc to empower business users as 'citizen developers' to 'assemble' custom applications.
But according to a comprehensive survey conducted by Accelerated Strategies Group (ASG) and sponsored by CData, low-code/no-code is not yet delivering on its promise due to the lack of data connectivity and development skills.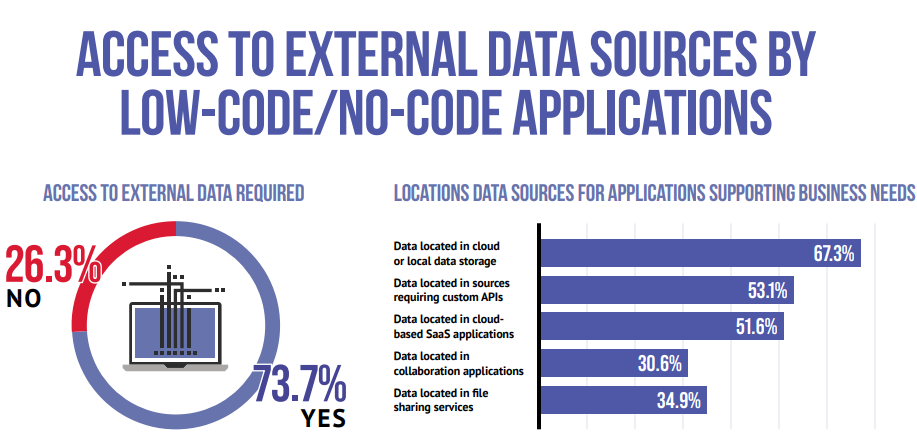 What is Low-Code/No-Code
Low-code and no-code development tools enable non-programmers to build applications through a graphical user interface instead of code. Through drag-and-drop workflow builders and point-and-click UIs, these tools allow citizen developers to quickly design, build, and launch applications with minimal or no coding required. More specifically, the self-service tools enable them to assemble applications by piecing together pre-built components.
Low-Code/No-Code Adoption
According to ASG, analysts predict the majority of future applications will be built using low-code/no-code platforms. Already, the usage of low-code/no-code development platforms has grown dramatically in popularity.
Today, about 25 percent of small companies and 20 percent of larger companies have a primary strategy to create applications using this method. A nearly equal number of companies are either making a subset of applications or running pilots with these platforms.
But more than 25 percent of companies are not using the development capabilities offered by this emerging technology, and many lack access to the data they need to make low-code/no-code workflows effective across their organizations.
Data Connectivity is Limiting Low-Code/No-Code Success
The ASG survey found the lack of data connectivity is perhaps the most significant limiting factor to the successful adoption of low-code/no-code development. Applications created to improve business operations or workflows need to access external data. Respondents commonly list the lack of connectivity between low-code/no-code platforms and back-end systems, databases, web services, and APIs as a limiting factor in adopting the technology.
"70 percent of survey respondents stated the ability to access external data is a limiting factor in utilizing low-code/no-code development."
Nearly 3 out of 4 (74 percent) of the low-code/no-code applications developed by the surveyed organizations require access to information external to the applications. Those external data sources are most often cloud-based storage (e.g., Amazon S3) or cloud and local databases (e.g., SQL Server, Oracle, MySQL, DB2). Half of these applications utilize data located in cloud-based SaaS applications such as Salesforce, ServiceNow, Hubspot, and Dynamics 365, and made available using custom API integration.
The ability of applications build with low-code/no-code technologies to access data is a crucial function. From the survey results, it is clear that there is room for improvement. Respondents said their connectivity needs are only being met 20 percent of the time.
"The survey is clear: without a thoughtful connectivity strategy, organizations will continue to be limited by IT and developer-supported integrations."
Overall, this research points out that most companies attempting to standardize on low-code/no-code development efforts have run into some difficulty. Areas that need improvement are data access, connectivity, and synchronization.
Drag-and-drop platforms can handle basic application interfaces with database connectivity, but many cannot manage complex connectivity.
More About the ASG Survey Report
Accelerated Strategies Group (ASG) conducted an inclusive survey of enterprises about low-code/no-code development tools to understand how well teams leverage them to enable self-service integrations. The survey includes employees of all levels who are knowledgeable about their organization's use of Low-code/No-code development tools and platforms. This worldwide survey delved into topics not generally investigated. The research was explicitly interested in how Low-Code/No-code development efforts handle interaction with external data sources. This report summarizes and provides an analysis of those findings.
Interested in learning more about how to streamline your data connections? Contact the CData Arc team today.
<! -- END [CONTENT] -->