<! -- BEGIN [CONTENT] -->
CData Arc Q4 2020 Update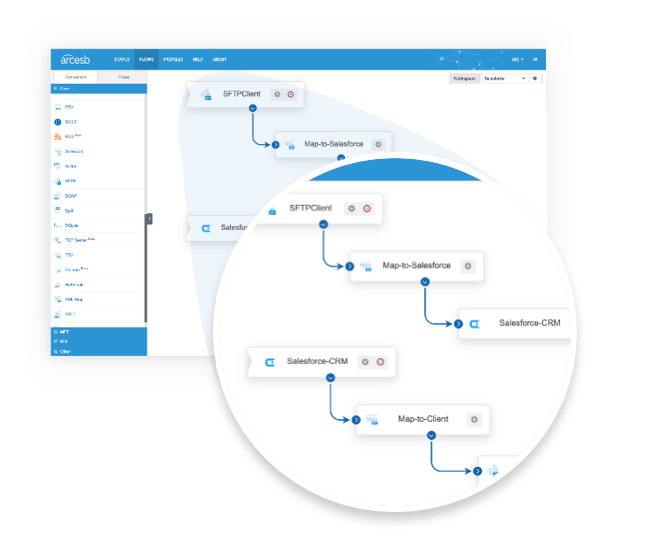 Our Q4 2020 update includes significant improvements to the CData Arc visual integration canvas UI, performance enhancements across the board, and support for the new 2020 drivers from CData connecting more than 200 applications.
Configure & Manage Connectors at Scale with Centralized Settings
Managing EDI, partner file transfer, and data integration flows across your organization need not be complicated or time-consuming. We've added a whole new way to configure and manage your connectors for integration at scale. Our new centralized settings enable you to define & store key-value pairs you can repeat across connectors. If you ever need to globally change or update profiles or various settings, you can now update them once and populate changes across all connections in the entire application. You will no longer need to custom-configure each connection, saving you considerable time and eliminating the need for custom scripting.
Centralized Security Controls
In addition, the centralized settings enable even more security to protect your underlying data sources. Place encrypted passwords and other sensitive information (using CData Arc's built-in AES encryption) in the centralized settings repository. Your team can reference the encrypted fields in centralized settings to authenticate access to underlying data sources - without ever needing to share sensitive password information. Easily and securely scale to thousands of integration flows, file transfer automations, and partner connections — without extra configuration & management.
Updated CData Connector Port
The CData Arc 2020 update comes with performance enhancements in the CData Connector, which supports live data connectivity to more than 200 data sources. Connect your workflows to ecommerce platforms, accounting tools, ERPs, CRMs, data warehousing solutions, and more through the CData Connector.
More About the CData Connector Port


Additional Updates
UI Upgrades: Organize your workflows by splitting the input and output of each connector into distinct shapes directly in the Flow Designer.
Performance Upgrades: Enjoy improved efficiency and processing times across the board, including in the XML Map, X12, REST connectors, and more.
Free Update for CData Arc Customers
Current CData Arc customers with an active subscription can download the latest release, available for both Windows and Java, to take advantage of these new features free of charge. Cloud hosting options for CData Arc are available on AWS and on Azure.
<! -- END [CONTENT] -->