<! -- BEGIN [CONTENT] -->
Join us for Enterprise Integration Summit 2021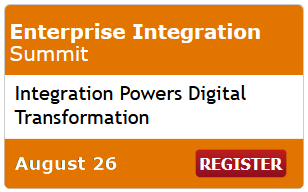 It should come as no surprise that the majority of companies find themselves in the middle of sweeping digital transformation. Organizations are scrambling to become more digitally advanced, implementing a wide range of new digital solutions to keep up with the pace of modern business and accomplish their business-critical goals.
Whether you're in the weeds of your digital transformation journey, or just getting started, we're here to give you some inspiration. Join us online at the upcoming iDevNews Enterprise Integration Summit, on August 26 and explore different ways companies are managing their digital transformation – from enterprise architecture strategies, API management, and microservices, to RPA, security initiatives, and hybrid & low-code integration.
Register today and save a virtual seat for the CData session, Data Connectivity: The Crux of Digital Transformation. Come explore how data connectivity and smart API integrations help enterprises realize the promise of digital transformation without prohibitive investment.
We'll also showcase how CData connectivity solutions and software tools ensure that every stakeholder is able to connect, integrate, and automate the disparate elements of the data ecosystem. We'll also take you through live demos of CData Sync and CData Arc.
Register for the virtual event and you'll get pre-show access to valuable resource downloads, including presentation slides, reports, and white papers. Learn how CData integration technologies ease the burden of data connectivity, solving a key part of enterprise digital transformation and allowing you to focus on the functions and practices that drive your business forward.
<! -- END [CONTENT] -->