<! -- BEGIN [CONTENT] -->
CData Arc Recognized as a Top EDI Software Vendor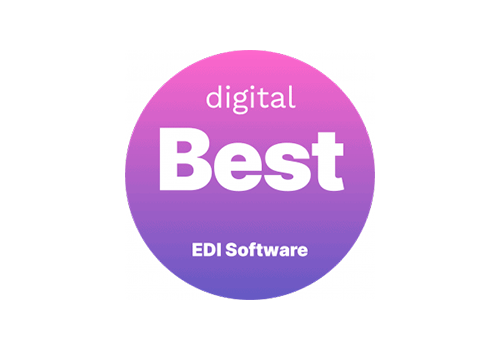 We're proud to announce that CData Arc has been selected by Digital.com as a top Electronic Data Interchange (EDI) software vendor in 2021.
EDI is the automated, computer-to-computer exchange of standard electronic business documents between business partners over a secure, standardized connection. The technology helps organizations get more done, speed up logistics timelines, and eliminate manual errors by automating the B2B communications traditionally done using paper.
After reviewing more than 100 EDI software companies, Digital.com chose CData Arc as a top solution available on the market. They compiled their list by considering factors most important to businesses, including applicability statement 2 (AS2) compatibility, improving information flow, and reporting.
Drummond-Certified AS2 Compatibility
AS2 is one of the most popular methods for transporting data securely and reliably over the Internet. This is the EDI messaging protocol millions of companies use to transfer files between trading partners.
AS2 creates an envelope for the EDI data, allowing it to be sent securely - using digital certificates and encryption — over the Internet. It also supports signed receipts and non-repudiation to provide legal proof that your trading partner has received the message after it has been delivered.
CData Arc provides fully Drummond-Certified AS2, guaranteeing the highest level of AS2 interoperability and reliability available.
Improving Information Flow
Improving the flow of information is a critical part of EDI technology. CData Arc provides automated alerts and notifications, ruled-based workflows, and ease of communication, separating itself from the pack.
Reporting
Robust reporting features are essential to understand and effectively manage your data. CData Arc provides EDI reporting to help your organization make data-driven business decisions, operate more strategically, and eliminate human error.
An EDI software vendor must have the following features, according to Digital.com:
EDI Mapping & Translation: EDI software should have the ability to automatically transform data between standard EDI formats and consumable flat-file and business formats.
Security: Solutions must incorporate modern encryption to protect data both at rest an in motion and guarantee the security of your EDI data.
Onboarding: EDI is meant to make business transactions easier. The interface you use should be simple so that you can easily add new partners to the system.
ERP and Supply Chain Integration: Seamless connection with your back-end systems is crucial to effectively automate your business processes.
CData Arc offers best-in-class solutions that streamline and simplify EDI processes. CData Arc handles every aspect of the EDI process, connecting all your back-end systems, ERP, accounting, marketing, and more - directly to the supply chain.
CData Arc comes with EDI mapping & translation features for all common EDI standards, including EDIFACT, X12, and a dozen industry-specific standards. Its drag-and-drop interface allows users to map data between formats, such as XML, JSON, and CSV. CData Arc also enables secure file transfer via a wide range of B2B protocols, including AS2, AS4, SFTP, OFTP, and more.
You can read the Digital.com review here, and if you are interested in making CData Arc your new EDI software vendor, get a 30-day free trial today.
<! -- END [CONTENT] -->