<! -- BEGIN [CONTENT] -->
3 Ways to Automate Your Supply Chain with Logistics Sample Flows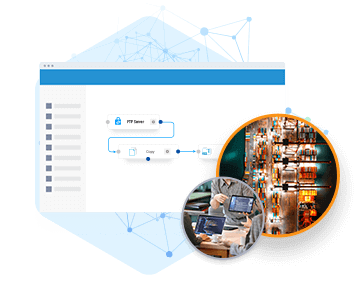 Ongoing global issues impacting supply chains — such as the COVID-19 pandemic — are pushing many logistics providers to re-evaluate and streamline their processes. Friction in shipping coordination only amplifies existing delays and risks that are outside a provider's control. Thankfully, supply chain professionals can put an end to delays, streamline communications with partners, and mitigate the impact of crisis scenarios with end-to-end supply chain automation.
CData Arc is designed to simplify and automate logistics processes so that reliable and effective B2B communication does not need to be a burden on your technical resources. To help you quickly automate your supply chain, we've developed a curated library of pre-built logistics workflows that drop directly into your CData Arc instance.
Let's explore 3 ways CData Arc's Sample Flows enable logistics providers to easily get started automating and augmenting supply chain processes.
Curious to see how CData Arc logistics processes work? Join us for a webinar on December 1, to see a live demo!
1. Coordinate Warehouse Inventory
Product inventory presents logistics providers with a litany of check-ins and confirmations to ensure they can fulfill current and forecasted orders.
Retail warehouses, for instance, often coordinate to prioritize and balance thousands of available goods as they restock local stores and fulfill direct online orders. If these processes remain manual, communications easily fall out of sync with current inventory levels and create an imprecise, unsustainable guessing game.
Alternatively, CData Arc offers retailers a pre-built Sample Flow to map Electronic Data Interchange (EDI) inquiries directly to back-end environments like Warehouse Management Systems (WMS) and databases. Arc makes it easy to deliver every EDI 846 inquiry without manual intervention — enabling warehouses to make instant, accurate decisions from live inventory information.
2. Streamline Deliveries
Another challenge in recent years has been the technical talent shortage. Carriers like FedEx and UPS simplify their operations by communicating with partners exclusively under certain standard protocols. As requests to mobilize warehouse inventory come in, logistics providers may lack the EDI expertise necessary to arrange communication with large package carriers.
Consider how a national grocer might pilot a food distributor's latest soft drink across dozens of select locations. In this scenario, the food distributor needs the EDI process in place to interface their warehouses with large package carriers — or go the costly route of providing physical shipments themselves via trucks and boats.
Distributors can leverage a Sample Flow to quickly mobilize Arc's built-in support for Load Tenders and Load Tender Invoices. These automated workflows make it simple to securely communicate over EDI 804 and 810 standards to leverage existing robust delivery networks.
3. Deliver Live Shipment Updates
Among many lasting effects of the 2021 Suez Canal blockage, this incident has exposed major limitations with shipment tracking. Unforeseen complications can clog support channels with shipping update requests as original delivery forecasts quickly become outdated.
For example, anything less than real-time information may put distributors in a bind if an electronics manufacturer experiences semiconductor shortages. Instead of manually referencing back-end systems to deliver shipment updates, CData Arc offers a Sample Flow to automatically push these out.
Logistics providers can now generate outbound EDI documents like 214s from real-time database data and push these updates to customers. In the above scenario, any unexpected delivery timeframe changes entered into the manufacturer's systems can immediately push updates to distributors in a standardized format. Decisions can then be made more proactively to notify retailers of inventory shortages long before they become an issue.
The True Potential of End-to-End B2B Automation
If the distributor also has similar automated processes in place, this can result in end-to-end real-time supply chain updates that can radically transform how forecasting is conducted.
Supply Chain Efficiency Starts with CData Arc
Logistics providers are increasingly navigating the unprecedented challenges of today's economic climate with automated, self-service solutions. CData Arc aims to put you and your trading partners at the forefront of this competitive landscape with modern approaches to B2B integration.
CData Arc's Logistics Sample Flows provide a curated library of hand-selected, pre-built integration flows that are ready to download and run today. Our cloud and on-prem CData Arc solutions enable any logistics provider to build streamlined B2B workflows using a simple drag-and-drop interface.
To learn how CData Arc is empowering logistics to modernize the supply chain, join us for a free live webinar on December 1 at 2pm EST.
<! -- END [CONTENT] -->