<! -- BEGIN [CONTENT] -->
High-Performance EDI Communication & Translation
EDI Integration
Reliable B2B Connectivity. No-Code Visual Interface.
Sleek, Modern EDI.
Try It Now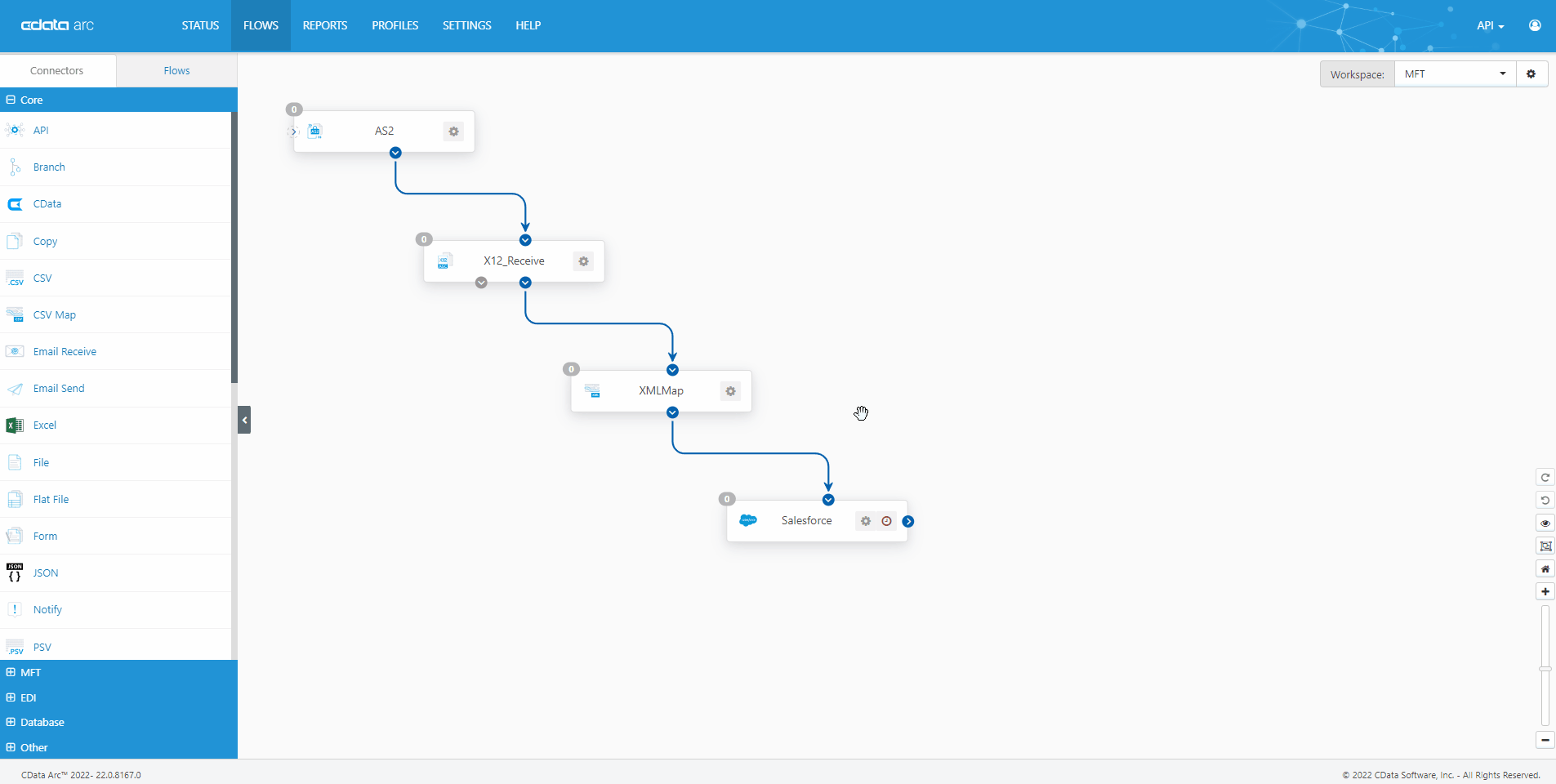 Simplify EDI Process Flow
Seamlessly connect with partners, send and receive EDI documents, and quickly automate EDI processes with ease.
Modernize Your Legacy EDI with Superior Technology
Drag & Drop EDI Integration: From ERP, CRM & Accounting to EDI, and back


End-to-End EDI
Arc is a robust EDI software solution that handles every aspect of the EDI process, connecting all your back-end systems, ERP, accounting, marketing, and more — directly to the supply chain
EDI Mapping & Translation
Map 10k+ EDI documents in 14 EDI standard formats to and from 100+ platforms. Turn non-EDI documents, like ERP purchase orders, into EDI documents, like X12 850 Purchase Orders, and translate EDI into formats your tools use.

EDI Translation
Managed File Transfer
EDI managed file transfer involves sending EDI documents via secure, standard file transmission protocols. Arc can transmit an EDI document using any major EDI file transfer protocol, from AS2 to AS4, OFTP and more.

Managed File Transfer
Automated Back End Integration
Easily move translated EDI data between your tools to kick off automations and trigger business processes. ERP, CRM, and more — Arc supports end-to-end EDI to back end system automations with 100+ platforms.

API and Application Integration
Cutting Edge Mapping & Transformation
Fully-integrated EDI processing supporting all major EDI file formats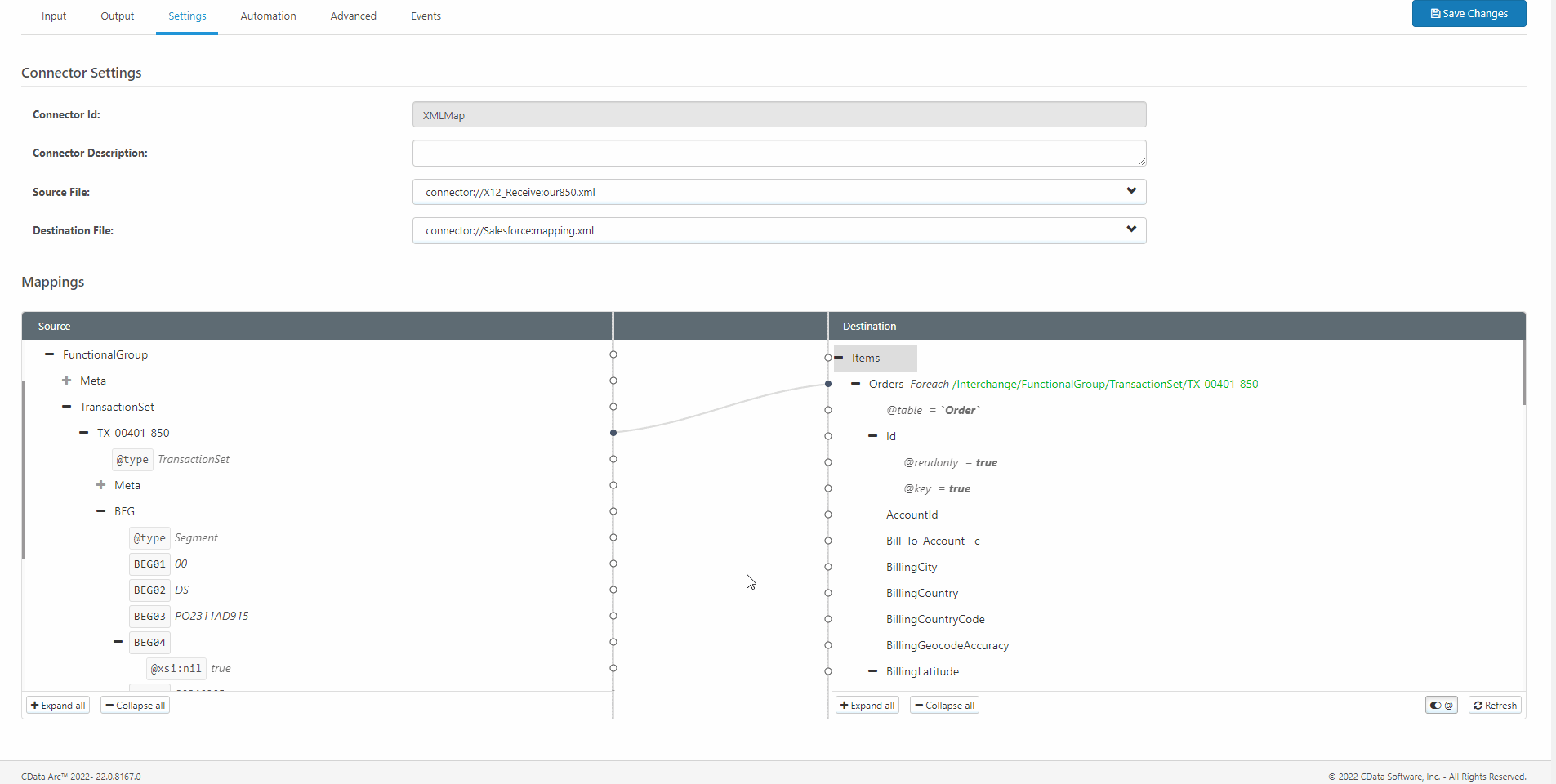 No-code drag & drop data mapping technology.
Expression editor with hundreds of data formatters.
Use conditional logic to transform your data dynamically.
Customizable to any degree through scripting.
Automatic PDF document generation.
Comfortably handle CSVs, TSVs, Zip files, and much more.
Modern EDI Integration
Available in Cloud or On-Premises

Get started in minutes. Reduce operational costs of managing infrastructure, dedicating resources, or scaling hardware with CData Arc Cloud. Also deployable as an on-premises solution on private hardware or private clouds with CData Arc.

Secure File Transfer

Arc harnesses powerful secure file transfer, storage, networking, encryption and compression capabilities. With Arc, users can integrate end-to-end file and transfer data using AS2, FTP, SFTP, OFTP, and more!

Best-in-Class Encryption & Compression

Arc offers best-in-class file encryption/decryption and compression/decompression across the most commonly used file and streaming formats, including OpenPGP, AES, Zip, Jar, GZip, etc.

High-Performance Bulk/Batch Data Loading

Arc is built from the same high performance engine that powers some of the leading data integration solutions in the industry. All connectors support advanced bulk/batch import and export capabilities at unrivaled speeds.
Drag-And-Drop Flow Designer

Arc's no-code, visual flow designer allows complex data flows to be defined and set up in minutes.

Robust API Support (REST/JSON/OData)

Don't see a connector for the data source that you need? Arc includes connectors such as REST, JSON, SOAP, OData, etc. for integration with every and any data source. The components make API integration truly low-code, dramatically simplifying JSON consumption and OData service integration.

Powerful Developer API

The developer API allows you to easily integrate Arc into your internal processes or embed connectors into your product offering. The API allows full control over configuring and monitoring the application.

Enterprise-Class Security

Includes standard enterprise-class security features, such as TLS/ SSL data encryption for all client-server communications.
<! -- END [CONTENT] -->