<! -- BEGIN [CONTENT] -->
Drivers in Focus: Connectivity for the Oracle Ecosystem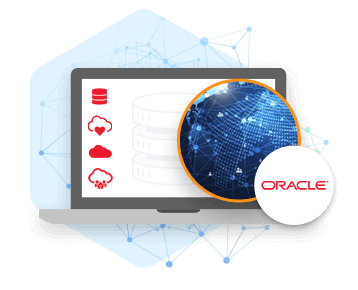 With such a comprehensive catalog of services, it is easy to let Oracle be the "one stop shop" for your enterprise needs – whether that's using Oracle database to meet your data warehousing needs, Oracle NetSuite for enterprise resource planning (ERP), Oracle Sales Cloud for customer relationship management (CRM), Oracle Eloqua for marketing automation, or any of the other dozens of services available.
But because the Oracle ecosystem is so broad and diverse, each solution comes with a unique integration challenge. Line of business users need to be able quickly analyze their data, track leads, forecast sales, and more – no matter where the data resides. IT teams are already overburdened, so tasking them with building integrations to a variety of sources is a big request. And that's where CData connectivity solutions come in.
In this article, we explore connectivity solutions from CData that make it simple to integrate data across the Oracle ecosystem and highlight how some CData customers connect, integrate, and automate their Oracle data more easily.
Watch a short demo video: 
Oracle Connectivity Solutions
As the leading provider in data connectivity solutions, CData specializes in standardizing data access across sources. Our rich library of integration solutions begins with connecting to Oracle Database, but we provide connectivity for many of the Oracle business services as well.
What Can You Connect To?
Oracle SCM Cloud (coming October 2022)
Connect to the Oracle Ecosystem
CData allows any user in an organization to work with their Oracle data from their preferred tools and applications. Our standards-based drivers enable users to connect from any tool, application, or platform that supports JDBC, ODBC, or ADO.NET connectivity, including most BI, reporting, and ETL tools. Our other data connectors provide tailor-made connectivity for specific tools, including Excel Add-Ins, Power BI, Tableau, SQL Server Integration Services, Python, and PowerShell.
When you need to connect to your Oracle data from cloud tools and platforms, CData Connect Cloud offers Data Connectivity as a Service, enabling pure no-installation cloud-to-cloud connectivity between Oracle and the cloud-based systems used to build value from enterprise data.
A Medical Research Center Benefits from Real-Time Insights on Oracle Sales Cloud
When a medical research center needed real-time insights into their Oracle Sales Cloud data, they planned on leveraging their existing expertise in Tableau. Without native connectivity to Oracle Sales Cloud from Tableau, however, they were faced with tasking their IT teams to build out an integration between Tableau and Oracle Sales Cloud, or building a custom data pipeline to extract their data from Oracle Sales Cloud and load it into a supported data store.
Fortunately, they found the CData Tableau Connector for Oracle Sales Cloud. Once the driver was installed, their line-of-business users were able to continue building reports and analytics in Tableau on top of live data from Oracle Sales Cloud, and their IT teams were freed from the pending heavy lift.
Learn how to connect to live Oracle Sales Cloud data in Tableau from our Knowledge Base article.
Integrate with the Oracle Ecosystem
CData Sync is an automated, continuous data replication application that allows you to copy data from any of the hundreds of supported data sources (including the Oracle ecosystem) to an on-premises or cloud-based data store, including Oracle database instances. The point-and-click interface paired with schedulable, incremental replication means that data pipelines are easy to build and maintain.
IT teams are freed to focus on other business-driving tasks, rather than babysitting data integrations. With all an enterprise's data warehoused in a single location, line-of-business users get a 360-degree view of the enterprise and can build more thorough reports and visualizations and gain deeper, more actionable insights into data.
An Insurance Company Consolidates Enterprise Data to Oracle Database
Thanks in part to growing digital transformation, a managed healthcare and insurance company found they had data spread across a variety of modern and legacy systems, including Salesforce, DB2, Google Analytics, Google Ads, Marketo, and more. Instead of creating bespoke pipelines for each of their data sources, they turned to CData Sync to create replication jobs, consolidating their enterprise data into a single, cloud-based Oracle database. Now anyone in the organization can easily access a complete view of the company, no matter where they are.
Learn how to replicate live Salesforce data to an Oracle Database in our Knowledge base article.
Automate on Top of the Oracle Ecosystem
CData Arc and CData Arc Cloud provide simple, no-code solutions to seamlessly create EDI, MFT, and API workflows and integrate with partners. When paired with drop-in connectivity to the Oracle ecosystem, businesses can seamlessly integrate their cloud-based data into their communications with business partners. Businesses can automatically update an Oracle database based on new invoices, create purchase orders based on ongoing business-to-business communications with trading partners, and more.
A Retail Chain Sends Real-Time Updates to Oracle Based on B2B Communications
One CData customer, a national retail chain, adopted CData Arc to enable secure, frictionless, automatic collaboration between their trading partners and Oracle databases. Using the point-and-click interface freed their business and IT teams to focus on their own revenue-growing tasks instead of manually processing business documents to inject information into their data systems. With CData Arc, they were able to automate and streamline their supply chain, provide fast and reliable service to customers, and move their business forward.
Learn more about CData Arc's database connectivity from our integrations page.
The CData Difference
The Oracle ecosystem is regularly touched by every role in a business, from HR, finance, and sales to IT teams and executive leadership. CData offers comprehensive solutions for Oracle data connectivity, simplifying Oracle connectivity for improved reporting, analytics, and management. With CData, every stakeholder in an organization is empowered to get the most value out of their Oracle data, no matter where it is or where they want to work with it.
Explore our Oracle connectivity solutions to learn more about how CData enables any user to work with their data exactly where and how they need to. Download a free trial and get simplified access to your Oracle data today.
Visit our team in person next week, October 17-20, at Oracle CloudWorld in Orlando, FL to learn more about our connectivity solutions!
<! -- END [CONTENT] -->