<! -- BEGIN [CONTENT] -->
Healthcare EDI Basics: What You Need to Know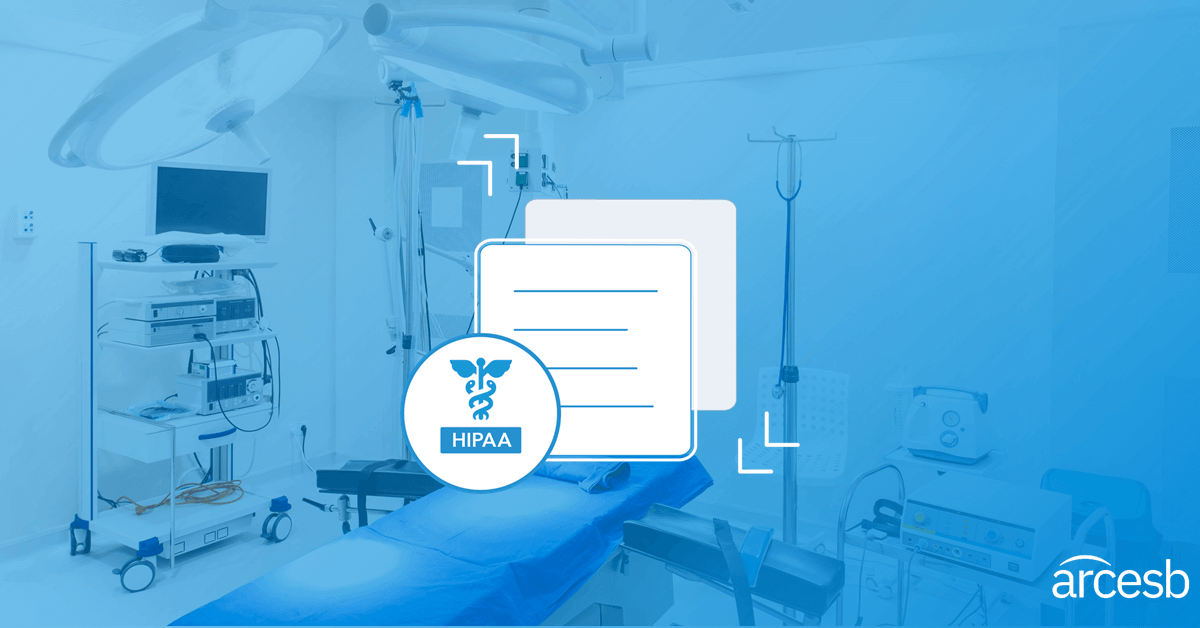 Many things come to mind when we talk about healthcare. From technologies and lifesaving procedures to tireless staff who are dedicated to helping patients live better lives.
Not typically at the forefront of our minds are the vast mounds of paperwork needed to support these healthcare professionals in their work.
Processing this high volume of healthcare data requires a robust implementation of HIPAA-compliant EDI systems. And it could not be more crucial to the delivery of care.
Healthcare EDI and HIPAA Compliance
What is the connection between EDI, HIPAA and healthcare?
Let's start with some brief background.
Healthcare EDI stems from the first George Bush (Sr.) administration's efforts to reduce healthcare costs. In 1991, the Bush administration formed a workgroup for Electronic Data Interchange. Its goal was to address the American healthcare system's inefficiencies. Five years later, that workgroup provided the key recommendations that eventually became Title II of the Healthcare Insurance Portability and Accountability Act (HIPAA) of 1996.
HIPAA laws created a more efficient and secure American healthcare system, and it came with teeth. Failing to comply with HIPAA laws comes with a minimum $10,000 penalty.
Title II of HIPAA requires healthcare organizations to implement secure standards for electronic healthcare transaction processing, or electronic data interchange (EDI).
Among other elements, HIPAA EDI compliance requirements include the HIPAA Transactions and Code Set Standard, which dictates that healthcare organizations must use specific EDI documents, which follow the HIPAA EDI standard format, to process healthcare transactions.
For example, healthcare providers must request payment from a health insurance provider using an X12 HIPAA 837 Healthcare Claim to actually submit medical claims, encounter information, and billing information to payers.
Critical functions, from receiving reimbursements to managing patient prescriptions and many others, depend on the success of implementing HIPAA-compliant EDI.
Before the implementation of standardized HIPAA X12 EDI, the situation was complex and difficult to navigate, but along with standardized codes came reduced complexity for all parties.
Standardized HIPAA documents cover nine core types of administrative and financial healthcare transactions used by physicians, payers, and other providers. Explore our common EDI transactions list for more information on these.
Key HIPAA Healthcare EDI Rules
One of the other key elements of healthcare EDI is the introduction of the National Provider Standard, also part of HIPAA Title II.
The National Provider Standard required each healthcare entity to have an NPI (unique ten-digit national provider identifier number). This reduces complexity by eliminating any possible confusion over the identities of recipients and senders of healthcare documents and further standardizing transactions, which was a problem prior to the passage of HIPAA — think about healthcare providers with many locations, each with unique mechanisms for billing.
NPI numbers carry identifying information such as name and business address. Only with your NPI can providers submit EDI transactions to payers and government agencies.
The other elements of HIPAA compliance include:
The HIPAA Privacy Rule — protects patient information
The HIPAA Security Rule — sets a model for patient data security
The HIPAA Enforcement Rule — sets the guidelines for investigating HIPAA violations
These rules are designed to safeguard sensitive patient data. Before HIPAA's enactment, many forms of processes were paper-based, and patients were also not protected from unauthorized information access and sharing.
Healthcare EDI is a secure method of data transfer that adheres to HIPAA instructions, and only authorized users can access these transactions, with data encrypted in transit.
Benefits of Healthcare EDI
EDI is required by law, but it's more than just another cost. Let's cover just some of the many benefits it affords healthcare organizations.
Improved Efficiency
Processing transactions is significantly more efficient with Healthcare EDI. As everything is handled by computer, organizations no longer wait for information to be entered manually, and data goes automatically into the necessary systems.
Greater Accuracy
Greater accuracy comes with less manual data entry. Errors are unlikely with automated data entry, and the various parties will consistently receive trustworthy information from automated healthcare EDI solutions.
Standardization
This refers to standardizing electronic healthcare transactions. Instead of using many confusing local or proprietary formats, all parties in healthcare transactions now follow universal standards so documents are more consistent across EDI partners.
Cost Savings
Efficiency and greater accuracy lead to cost savings. Simply put, paper-based processes are more expensive than digital EDI transactions, which save an average of $1.49 per claim for physicians. According to research from CAQH, that savings adds up to $102 Billion per year for healthcare providers, with another $13 Billion per year in savings still unrealized.
Increased Productivity
Healthcare EDI can reduce costs through higher levels of productivity. With healthcare EDI, recipients obtain the data they need quickly with no errors by using automated data transmission, allowing healthcare admin staff to focus time on other productive tasks.
Enhanced Security
By definition, EDI must incorporate state-of-the-art data encryption at rest and in motion, in addition to authentication and restricted data access. As only authorized parties can access patients' personal information via healthcare EDI, patient data is more secure than ever before.
The Components of Healthcare EDI: How EDI Works
Healthcare EDI is built on the same longstanding EDI technology used across industries. Essentially, an EDI transaction between partners breaks down into three steps:
1. EDI Mapping, Translation & Document Generation
A partner generates standardized EDI documents that match HIPAA requirements for key transactions, such as the HIPAA X12 837 Healthcare Claim, used to request reimbursement from an insurer or payer.
This involves EDI mapping, which is the process of transforming business files, such as the PDFs, Excel, CSV, and Google Sheets accounting spreadsheets you might create in various healthcare admin applications, into EDI formats.
It's important to note EDI mapping and translation are critical because EDI documents are absolutely not human-readable and look nothing like commonly used business formats.
Complete healthcare EDI solutions come with built-in EDI mapping and translation connectors for HIPAA and HL7 documents, which will save you many hours of custom scripting.
2. Testing and Validation — Snip Levels
Once the EDI documents are generated, they are next tested and validated for accuracy. Healthcare EDI demands rigorous testing, above and beyond what takes place in EDI across other industries.
Healthcare EDI uses a system called Snip Levels, which involves validating files across seven levels to ensure each document provides all necessary information. For example, Type 3 EDI Snip testing involves validating that the service level information adds up to the claim level information in an EDI document, such as the 837 Healthcare Claim.
3. B2B File Transfer
The standard EDI documents are next sent securely from one partner (e.g. a care provider) to another (e.g. a payer, pharmacy or government agency).
HIPAA laws require that EDI files be exchanged between partners with absolute certainty that only the intended recipient in fact gets the data. This necessitates a means of encrypting, authenticating, and robustly securing file transfers.
Enter B2B managed file transfer.
B2B file transfer is conducted using a managed file transfer (MFT) platform. These MFT solutions (which must be included in any good EDI software) enable organizations to exchange EDI documents over secure protocols, such as AS2, MLLP and SFTP.
Explore our modern managed file transfer platform to get started with secure, HIPAA-compliant B2B file transfer.
4. EDI Integration
EDI software is then used by document recipients (care providers and the partners they exchange documents with) to translate incoming documents into common business formats and automatically route them into key applications, such as accounting tools, databases, ERP systems, and healthcare administration platforms.
This automation is a key component of a modern EDI solution, as it enables streamlined, end-to-end EDI data flows, reducing manual errors and saving countless hours.
Learn More About EDI
This is the tip of the iceberg when it comes to EDI. For more resources on everything from security standards to EDI protocols, common EDI documents and EDI FAQs, visit our EDI resource center to learn more about EDI.
EDI Resource Center and EDI FAQs Page
Implementing Healthcare EDI: Direct EDI Software vs. VANs
Two of the most popular approaches to implementing EDI include value-added networks (VANs) and direct EDI software (typically via AS2).
Direct, Peer-to-Peer EDI Messaging Software (AS2)
Partners exchange messages by connecting directly to each other's systems using an EDI software solution.
This provides organizations with an efficient, cost-effective, and scalable method of data transfer with no middle-man or service costs.
Direct EDI and AS2 solutions are designed for everything from relatively small to highly robust EDI implementations, providing rapid, automated processes with extremely low cost and no need for manual data entry.
EDI software typically requires some initial setup and EDI mapping configuration. But once your mappings are set, EDI software can deliver a beautiful, fully automated setup from end to end.
Value-Added Networks (VANs)
These are third-party routing services for messages.
VANs typically have organizations manually enter EDI data into a web form, then once the VAN has received the message, it examines the data and sends it to the intended recipient.
As they're based on manual data-entry, VANs make EDI easy to start but can quickly become tedious, time-consuming, and error-riddled.
In addition, VANs typically charge fees for each transaction, whereas software is either purchased on a perpetual license (one-time fee forever) or yearly subscription.
As your transaction volumes increase and you add any additional EDI partners, EDI costs rise significantly with VANs.
Even if you send as few as 50 transactions/month, you'll probably save money with software instead of a VAN.
See a full breakdown: Direct EDI vs. VANs.
Automated, Scalable Healthcare EDI
CData Arc is a modern managed file transfer and healthcare EDI solution which enables organizations to reap the many benefits of EDI.
Built-in, versatile connectors allow you to handle HIPAA and HL7 EDI translation as well as EDI file transfer over secure AS2 and MLLP. Providing both a friendly visual UI for drag and drop EDI connectivity and a powerful admin API, CData Arc is both intuitive and scalable.
With affordable pricing for unlimited EDI processing, end-to-end EDI automation, and flexible technology, CData Arc helps you cost-effectively satisfy HIPAA requirements and turn EDI into a strategic asset.
<! -- END [CONTENT] -->