<! -- BEGIN [CONTENT] -->
The Benefits of MFT Modernization: Moving Beyond Siloed File Transfer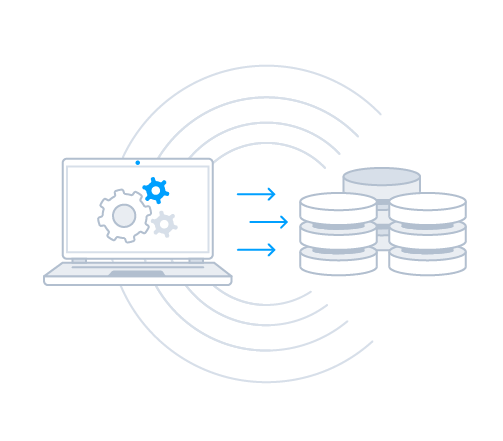 Organizations increasingly rely on data to serve customers, drive decision-making, and power business processes. This data is typically stored in files, across disparate applications, databases, and local machines and must be moved across the organization quickly to respond to real-time customer demands.
Businesses have long used multiple file transfer protocols and mechanisms to move data for different purposes. They might employ FTP for file transfer between computers on a network, protocols such as AS2 for EDI, and APIs to exchange data between applications. Typically, they have had no centralized or integrated processes for these different types of data exchange.
But with more companies using more applications and looking to share more data than ever, many organizations realize they need to treat file transfer as a priority, rather than an afterthought. File transfer is no longer about moving a file in a siloed process, sticking it into a single database and forgetting about it. Now, it's about acting on and enriching data as it is sent or received. Some are even looking to create a File Transfer Center of Excellence — a centralized system where all transfers are managed cohesively, in one place, using one system with master rules.
This type of setup requires a modern MFT platform that can replace outdated, legacy file transfer systems and enable you to take advantage of the explosion of integration opportunities.
Become a Better Business Partner
By eliminating the use of multiple processes, you can make data transfer much easier to manage. Simplifying file transfer in turn makes you a more attractive business partner because you can exchange information across your supply chain in a way that saves time and money for you and your partners. You can more rapidly onboard new suppliers, enable partner self-service, and reduce service level agreement violations while improving overall partner satisfaction.
Better file transfer also helps you prove that a file was delivered and when it was delivered so you can avoid chargebacks, should orders appear not to have been processed within the contracted time. Some file transfer protocols, such as AS2, have receipt mechanisms that provide proof the file transfer was sent. Such protocols make it easier to detect issues and problems than if you had to rely on monitoring and reporting.
What to Look For in a Solution
When looking for a managed file transfer solution, you should look for the following capabilities.
Connectors
Connectors are extensions that make it easy to integrate with new applications or technologies. Today's MFT solutions typically offer a wide range of connectors extending capabilities beyond just file transfer. Make sure the solution you choose includes connectors for the technologies you're looking to integrate.
Message Publishing to Data Streams
Publishing messages from files to data streams like Kafka or Kinesis allows data to be processed in real time by other processes.
Support for Large Files
Because files are growing ever larger, the MFT solution must be able to stream data transfers to keep pace with workflows that depend on these files. The MFT solution should also be capable of restarting failed files where they were interrupted should a failure occur.
Workflows
File transfer solutions were once used simply to move files from one place to another. Now MFT solutions can automatically process data, make decisions, or use automatic branching logic to kick off automated workflows. Automating file transfer workflows with an MFT platform enables users to manage complex and high-volume workflows with greater flexibility and capacity, so your organization can more efficiently manage your security, compliance, and productivity priorities.
Auditing
Organizations must increasingly comply with data privacy regulations such as GDPR. Logging and auditing ensure traceability of messages throughout your company. Solutions should include detailed audit logs for all transfers including requests, responses, and receipts.
Scalability
Many organizations want a solution that's initially inexpensive but will scale to accommodate additional file transfer processes. Look for a solution that's easy and lightweight, that can also scale and grow.
APIs
As your organization utilizes more applications, you'll want to use them with your file transfer solution. A solution that includes a robust API will enable you to easily incorporate new additions into your existing processes.
Metadata
As you manage increasing amounts of data, it becomes more difficult to identify files and records. An MFT platform that incorporates metadata allows you to tag your data to make it easier to search for track messages and files.
CData Arc Checks All These Boxes and More
CData Arc is a modern MFT solution that delivers file transfer for all types of data in your organization with a single, easy-to-use solution. Tailor-made to save you time, money, and compliance headaches, CData Arc connects your processes with ease.
<! -- END [CONTENT] -->