<! -- BEGIN [CONTENT] -->
Automate MailChimp Lead Imports From MySQL
For millions of teams, MailChimp is one of the most crucial and easy-to-use marketing and sales tools out there. From scoring and managing leads across various stages of the sales funnel to sending monthly newsletters, setting up automated drip campaigns and much more, MailChimp is many a team's most trusted email tool. In fact, at CData Arc, we use it extensively in our communications and take direct advantage of its powerful automation features.
If you're like us and also like many sales and marketing teams that use MailChimp, you also manage contacts across a host of cloud CRMs, databases, support management platforms, marketing automation tools and maybe even ERP systems. One of the most powerful ways to improve your workflows and multiply your marketing and sales results is to unify your technology stack so you can automate processes. In other words, get your tools talking to each other and set up practical automations, where events that happen in one tool trigger automatic updates or actions in another.
That's one thing we love about MailChimp — just how powerful it is when it comes to setting up practical automations. For example, you can set up email campaign triggers or automatically add leads in MailChimp anytime leads are created in your MySQL database (often the case if you collect lead data in popular CMS tools like WordPress, cloud CRMs and support platforms).
If you manage contacts using a MySQL database and want to unify your stack with MailChimp, we've created a sample integration package, right in CData Arc, that you can set up in just minutes.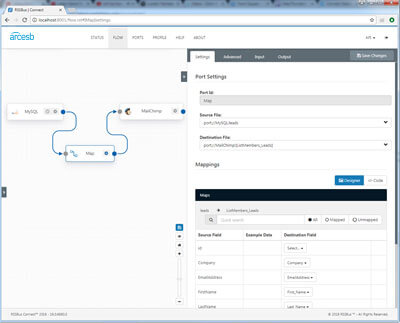 To help you navigate these connections, we've published an automation integration sample for CData Arc that walks you through, step-by-step, how to link your MySQL database to your MailChimp account using CData Arc. This sample shows how easily you can automate manual tasks, such as automatically exporting MySQL data and storing them as new Leads in MailChimp.

Download the full Automation sample here
<! -- END [CONTENT] -->