<! -- BEGIN [CONTENT] -->
Frequent Questions About CData Arc Cloud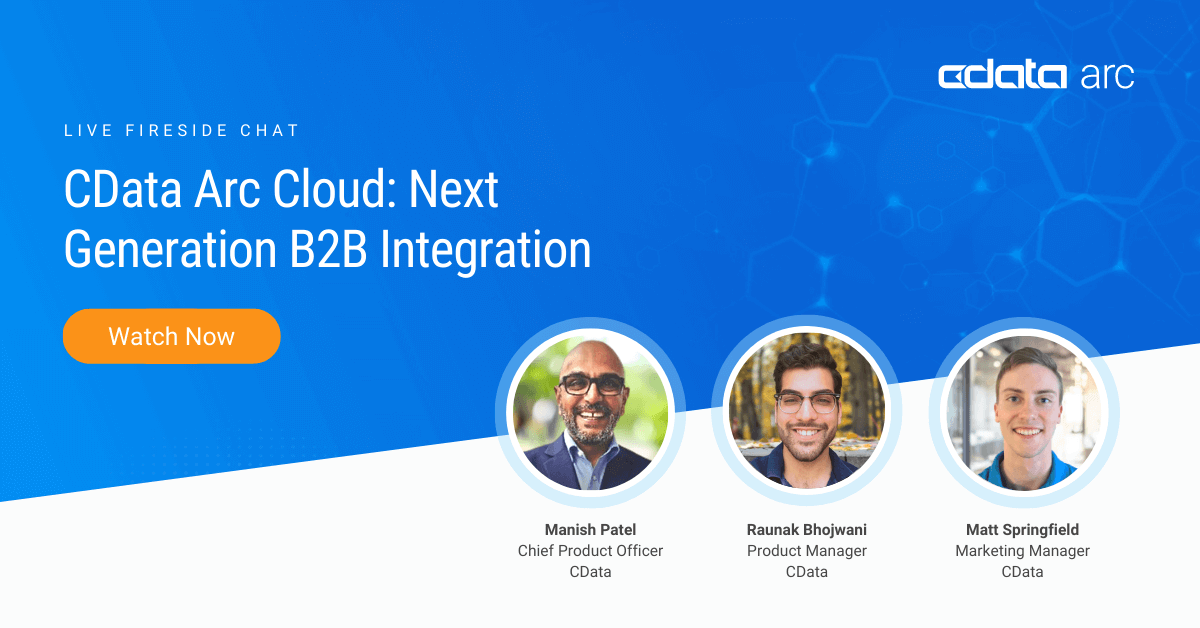 We recently announced our next-generation cloud B2B integration offering: CData Arc Cloud. To answer some of your most asked questions, we hosted a live fireside chat with the CData product team behind Arc Cloud.
This session was hosted by CData Technology Evangelist Jerod Johnson, who was joined by CPO Manish Patel, Product Manager Raunak Bhojwani, and Product Marketing Manager Matt Springfield.
In this article, we'll recap some of the highlights from the event and give you a look into our vision for modern B2B integration in the cloud.
What is CData Arc Cloud?
CData Arc Cloud is a cloud-native, no-code B2B integration solution that helps you automate B2B workflows and work with trading partners in the cloud.
Customers can access a broad library of specialized modules, or "connectors," to mix and match endlessly customizable B2B workflows. Our simple, easy-to-use interface allows you to drag, drop, and automate business processes to coordinate your systems with your partners.
Our newest cloud offering accelerates your ability to integrate and automate your B2B workflows across any system, data source, and application. CData Arc Cloud streamlines how you communicate with business partners without the complex infrastructure, installation, or maintenance usually required by B2B integration technology.
"CData Arc Cloud is a very lightweight web application which combines a no-code, drag-and-drop interface with a microservice architecture to deliver a very customizable B2B workflow experience."
– Raunak Bhojwani, CData Product Manager
What's Happening with Arc On-Premises?
CData Arc Cloud builds on a long and successful history of our CData Arc on-prem application (formerly CData Arc) with the addition of cloud-native deployment.
All features of the CData Arc platform are deployed from a single codebase to anywhere you prefer — on-premises, in your own cloud via a marketplace, or fully hosted and managed in our cloud. All functions and updates are automatically available to you, no matter where you deploy.
In other words, the CData Arc platform now offers you more flexibility to leverage the same Arc solutions you know and love from anywhere and everywhere you work.
How is CData Arc Cloud Different from Other B2B Integration Tools?
While many B2B integration products are available on the market today, few prioritize ease of use, vast integration options, and connectivity like CData Arc Cloud.
Ease of use: With CData Arc Cloud, nearly all work is done via a visual drag-and-drop canvas. We built Arc Cloud with a user-first design to make your work as easy as possible. "You don't have to be a developer or an EDI expert to use the product," said CData Product Manager Raunak Bhojwani. CData Arc removes the technical barriers that keep other solutions reliant on IT involvement.
Certified B2B integrations: CData boasts nearly 17 years of experience in B2B integration, and we've equipped CData Arc Cloud with the security protocols and certifications necessary to ensure you can connect and communicate any way you require. "A lot of the products and connectors we have inside the application are certified — and have been for decades," said Bhojwani. "Users would find it difficult to find a product with the variety of certified MFT capabilities and exhaustive EDI translation that CData Arc Cloud supports."
Expansive connectivity options: CData's breadth and depth of application and API connectivity are unmatched in the market. "Going well beyond just the certified file transfer and EDI, we're now integrating directly with a constantly growing list of backend systems, whether that's Salesforce, NetSuite, or QuickBooks," said Bhojwani. "Arc is a product that marries that expertise and certification of the B2B world with the industry-leading connectivity that CData brings."
How Does CData Arc Cloud Simplify B2B Transactions?
CData Arc Cloud solves the challenges around legacy methods of B2B integration such as transaction-based pricing or unintuitive mapping processes.
No-code visual data mapping is a radical leap to simplifying how you map and manipulate document processing. With Arc Cloud's drag-and-drop interface and automated integration flows, onboarding new trading partners takes minutes instead of weeks. Even if you're new to B2B integration, Arc offers pre-configured smart maps, as well as an expert mapping service team to help you get started.
Pricing is simplified too – the CData Arc platform offers an unlimited connection model to eliminate transaction-based pricing.
"With Arc Cloud, you shorten your timeline from planning a business partner process to implementing, testing, and getting it live. Less setup time, less installation, and less hardware accelerates your time-to-action."
– Manish Patel, CData Chief Product Officer
What Have Customers Accomplished with CData Arc Cloud?
CData Arc Cloud is extremely versatile and flexible for use in any industry or business process requiring file transfer, backend connectivity, or data mapping and transformation. As a result, Arc has helped tens of thousands of users across the globe accomplish their unique goals via simple, powerful B2B integration.
For example, the government of Orange County, California leverages CData Arc to build an automated work order workflow for their local municipalities. County employees can now react quickly to reports of flooding, vandalism, and more by integrating their Public Works systems with a public portal.
Horizon Blue Cross Blue Shield of New Jersey recently relied on CData Arc to rework their data ingestion framework and quickly implement a new EDI solution that complies with new FHIR interoperability mandates. In just weeks, Horizon was able to implement a fully compliant EDI solution that allowed them to receive EDI 837 files from partners, translate and integrate the data, and automatically create an explanation of benefits (EOB) document.
From helping healthcare organizations comply with strict regulations to supporting retail supply chains, manufacturers, and government agencies, CData Arc Cloud powers B2B processes across hundreds of industries and use cases.
How Does CData Arc Cloud Work?
The live fireside chat concluded with a demonstration of CData Arc Cloud, followed up with a Q&A with our audience. To watch the full webinar and hear directly from our product leaders, access the recording here.
"What excites me the most about Arc Cloud is that it requires zero commitment to try. Clients can operate with B2B integration workflows in a matter of hours. No installation and no credit card required… just sign up and try!"
– Manish Patel, CData Chief Product Officer
To get started, sign up for your free CData Arc trial today — whether you want to try cloud or on-premises.
<! -- END [CONTENT] -->