<! -- BEGIN [CONTENT] -->
Elevate B2B Integration with CData Arc Cloud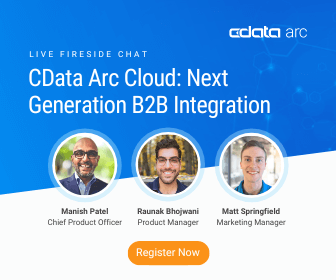 We've been working on something big, and we want to share it with you!
More and more systems and applications used in your business are moving to the cloud. This shift has made connectivity increasingly difficult, taxing even the most robust IT teams to re-engineer integration workflows to support modern business. At CData we want to make your transition seamless by offering new B2B integration capabilities in the cloud. Now, we're expanding our CData Arc offering with the launch of CData Arc Cloud.
Arc Cloud makes B2B integration simpler and quicker than ever before. Automate all your complex B2B workflows from your web browser – no software installation required.
Join us June 28 for a fireside chat with Product Manager Raunak Bhojwani, CPO Manish Patel, and Product Marketing Manager Matt Springfield to discover our vision for CData Arc Cloud and see a live demo!
What is CData Arc Cloud?
CData Arc Cloud is a cloud-native, no-code solution that simplifies the way users map, integrate, and automate their B2B integration processes.
CData Arc Cloud modernizes popular B2B processes like EDI, Managed File Transfer, and App integration across a wide range of industries and use cases, including retail, logistics, healthcare, e-commerce and more. For example, healthcare organizations can use Arc Cloud to meet critical interoperability initiatives like FHIR. Likewise, retail businesses can evaluate inventory levels, fulfill and ship orders efficiently, and easily manage suppliers, manufacturers, and e-commerce platforms.
Learn about the future of B2B integration in the cloud at our fireside chat on June 28. Sign up today!
Why B2B Integration in the Cloud?
The all-new CData Arc Cloud brings innovation and simplicity to the B2B integration space. Our customers have already seen countless successes with their B2B integrations through our on-prem solution. Now customers can bring those processes to the cloud and communicate with partners wherever the data lives and wherever you need it to go.
Business users can bypass exhaustive IT involvement to automate their most valuable B2B workflows in minutes. In addition, the user-friendly, visual interface allows non-technical users to enable EDI, MFT, API and application integrations without relying on developers to build custom solutions to meet protocols or translate document formats.
Simply identify your needs, then drag, drop, and let the automation handle the rest! You can coordinate with your partners with fewer errors and minimal integration time. With CData Arc Cloud, users can benefit from:
No-code B2B workflow design: Visual data mapping tools let any user map and build workflows with no need to write or maintain code.
Universal connectivity: You're no longer limited to on-premises workflows. Now, you can connect your SaaS applications, internal and external systems, files, e-commerce platforms, and more for end-to-end B2B connectivity.
Rapid time-to-value: B2B integration without the high barrier to entry. Arc Cloud requires no installation, hardware, or infrastructure to get started.
Ready to Modernize with CData Arc Cloud?
To learn more about the our product roadmap, hear how CData Arc Cloud fits into the future of B2B integration, and see a live demo, join us for our June 28 fireside chat with CData product leaders. Sign up today.
<! -- END [CONTENT] -->