<! -- BEGIN [CONTENT] -->
Q&A with Product Manager Raunak Bhojwani: Improved No-Code Data Mapping, Conditional Logic, and More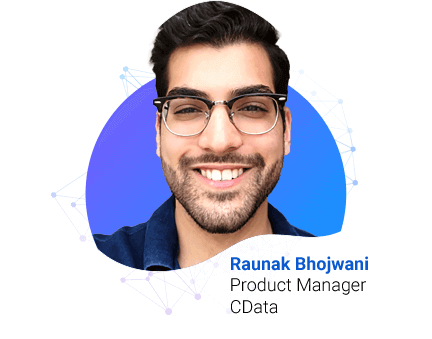 The CData team has been hard at work on the latest CData Arc 2023 release, focusing on an improved no-code data mapping experience, conditional data validation and routing, and more. Raunak Bhojwani, CData Arc Product Manager, spoke to us about the design decisions behind these latest updates and why he's excited about the future of Arc.
1. First, how would you summarize Arc's new features and their impact?
Bhojwani: In this release, we really wanted to focus on the user experience for high-volume connectors in Arc: the XML Map Connector, the Branch Connector, the Validate Connector, and the Copy Connector in particular.
We know our customers use these connectors extensively and that in certain places the UI could be improved to be both more intuitive and more powerful. By streamlining the parts of Arc that people use the most, we hope that the experience of building out typical workflows is as quick and easy as it can be.
2. What inspired the team to focus on these aspects of Arc?
Bhojwani: After we launched Arc 2023 in April, we took some time to reflect on our recent development practices. For a long time up to that point, our focus had been "new, new, new." For example, in April we built entirely new reporting, monitoring, and tracking systems, and for a significant period before that we were constantly building new connectors and adding new functionality.
This release is a bit different. We wanted to make sure our emphasis on new features was balanced out by a focus on making sure that the most-used features in Arc are as polished as they can be.
For example, the XML Map Connector is a critical part of many Arc workflows, since XML is Arc's standard data format for data transformation and manipulation. We knew that if we improved the user experience in the XML Map Connector, a lot of Arc users would benefit.
We embarked on a research project with customers to understand what most deserves our attention. Results from customer interviews and conversations showed that Arc's UI could be better at implementing complex business rules, both in terms of data mapping as well as data validation and routing. So, our focus in this release is largely the result of on-the-ground work that ensures we understand what would make Arc users' lives better.
3. Did the team have any specific user experiences or scenarios in mind while finalizing the design?
Bhojwani: Definitely. We spent a long time thinking about the hands-on users of Arc – those who are tasked with implementing data translation that relies on business rules. These users need to work within Arc to ensure that their data models satisfy a set of pre-defined business requirements.
We found that these users rely heavily on the ability to create custom conditional logic within a mapping. Providing a better UI for building data-driven business conditions helps prevent these users from slowing down their implementation process by writing custom code or script to handle logical edge cases.
Another example of a user experience that we considered is the enterprise user who builds workflows that handle thousands of files per day. These users more heavily depend on dynamic file routing to ensure that files are processed appropriately according to specific data and metadata associated with the file. Since the Branch Connector provides the ability to perform dynamic file routing, we knew we wanted to improve the Branch Connector and overall flow design, alongside the XML Map Connector.
4. Are there any ideas or features that evolved during the development process?
Bhojwani: Evolution during the development process is part and parcel of designing new features. One example that comes to mind is the ability to dynamically test new mapping changes. When improving the XML Map Connector's user experience, we noticed that we were spending too long verifying the effects of our UI changes. So, we realized that both Arc users and Arc developers could benefit from a streamlined process of visualizing how changes to the mapping affect the output.
5. Has anything changed in your development philosophy throughout your time as Arc product manager?
Bhojwani: While there are many small things that have evolved to promote efficiency and reliability, I think the biggest change has been our move to put the customer first.
We have increasingly done a better job of putting our users front and center, rather than worrying about industry expectations or what the market is doing. Customer research is at the center of our design decisions now, and that helps us move away from abstract conceptions of what B2B integration solutions are supposed to look like.
These days, our design discussions always focus on what would make our users' lives easier, and I think that represents our growth as a team as well as Arc's growth as an application.
6. Can we get a glimpse into the direction of Arc's future development?
Bhojwani: Expect to see continued improvements to high-volume aspects of Arc as we continue to make the user experience the best that it can be. One short-term focus is on back-end integration connectors that interface with databases, business applications, and other data stores. Most end-to-end B2B integration workflows involve back-end systems, so any improvements we can make to these connectors will be very impactful for our users.
Another aspect that we're excited about involves enterprise user-access control. Our current Users & Roles system satisfies many user management requirements, but larger organizations sometimes need more granular control over which users can perform which tasks within specific workflows. We're looking forward to rolling out these enterprise-centric updates to make IT admins' lives that much easier.
Get started with CData Arc
Haven't yet gotten your hands on Arc? We make it easy to try Arc for yourself with our free 30-day trial. Simply sign up and get started today!
If you're already an Arc user and would simply like to make use of the exciting new features, you can install the latest version here.
<! -- END [CONTENT] -->