<! -- BEGIN [CONTENT] -->
Introducing CData Arc 2023: Enterprise-Level Visibility and Monitoring Features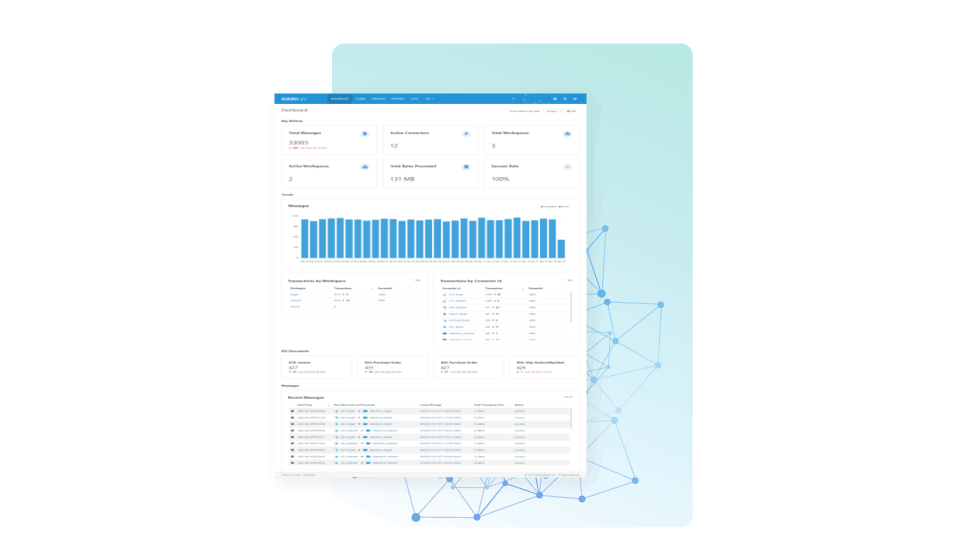 It's an exciting time at CData as we launch the latest version of our enterprise B2B integration platform, CData Arc 2023! This release focuses on visibility, monitoring, and analysis of B2B transactions to ensure that Arc provides an excellent experience both during and after your workflows are built.
The core of Arc's revamped monitoring and analysis experience consists of two all-new features:
Expanded and customizable dashboard metrics and message trends
Advanced message tracking to view specific exchanges with business partners
Watch this quick video to discover what's new in CData Arc 2023:
Let's dig into each of these features to understand what you can look forward to in Arc 2023.
Customizable dashboard: Metrics & message trends
While CData Arc has always had a dashboard displaying transaction counts, errors, and other important status information, the new and improved Arc 2023 dashboard is now fully customizable with a significantly expanded set of metrics and intelligently curated messaging trends. Together, these monitoring tools ensure full visibility into your B2B transactions.
The new Arc dashboard metrics and trends include:
Transaction success rate
Messages processed by timeframe
Processing volume
Active connectors & workspaces
Sampling from the metrics menu allows you to build simple to complex dashboards, depending on your needs. If you have grown accustomed to the Status Page metrics from older versions of Arc, you can simply recreate it in Arc 2023.
Why it matters
System admins and IT managers need to understand the status of B2B integration pipelines to ensure the health of critical business relationships. Enterprise-level reporting and monitoring tools help admins save time and ensure accuracy when analyzing complex sets of transaction data.
With our updated dashboard, the experience of managing and monitoring Arc is smoother than ever – not only do you have more information in front of you at a glance, but you can also select exactly the values that are most relevant to you.
Advanced message tracking
The ability to track specific messages or exchanges with partners has significantly improved in the latest version of CData Arc. We've heard the feedback that past iterations of the application focused too heavily on logs and technical transaction headers when displaying the state of data movement within Arc.
Here's a sampling of what you can do with re-focused visibility features:
See how a single message is processed by multiple connectors in Arc
Understand each message's source and destination at a glance
View messages processed by specific connectors or workspaces
Together, this moves the message-tracking focus from technical transaction details to business-driven data flow.
Why it matters
When colleagues or business partners have questions about specific B2B transactions, it's important to be able to answer those questions quickly and with confidence. To accomplish that, we're providing relevant and intuitive visibility into individual messages, documents, and automation flows.
We hope that we've better accomplished this by re-focusing our message tracking on the business relationships that matter to you rather than the technical specifics found in transaction logs. System admins can know the answer to any data flow question in Arc without having to spend undue time or effort.
Get started with CData Arc
Haven't yet gotten your hands on Arc? We make it easy to try Arc for yourself with our free 30-day trial. Simply sign up and get started today!
If you're already an Arc user and would simply like to make use of the exciting new features, you can install the latest version here.
<! -- END [CONTENT] -->