<! -- BEGIN [CONTENT] -->
Why the Future Demands Better Healthcare B2B Integration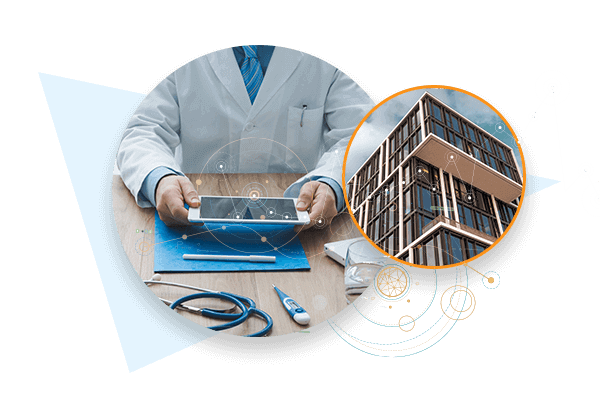 As global medical systems heal from years of unyielding pressure, simplified healthcare B2B integration presents some of the brightest opportunities for the industry.
The COVID-19 pandemic exposed how delayed improvements to digital operations create dire gaps in network coordination and patient care. With over 80% of hospital activity centered on operations rather than direct care, healthcare organizations now have clarity and cost-driven pressure to improve administrative decisions by digitally integrating healthcare networks.
According to a recent Gartner report, 31% of provider CIOs are increasing technology funding to exchange and use health information across more systems. Hospitals, insurers, and pharmaceutical supply providers are among the multitude of healthcare organizations seeking to easily exchange clear information faster.
Improved healthcare B2B integration will play a key role in supporting information transparency for coordinated care at lower costs — internally, and across care-enabling partnerships.
Save Costs with Industry Compliance
For over a decade before the pandemic, government regulators pushed for digital improvements to improve healthcare quality and operations. While healthcare networks now widely use EHR (electronic health records) systems, they lack the connectivity and tools to bridge their use. Urgent cost pressures position healthcare B2B integration as an opportunity rather than a disruptive compliance burden.
For instance, United States legislature introduced multiple acts in 2008 that increased basic EHR adoption. By 2015, EHR system use grew by 9 times across an unprecedented 83% of U.S hospitals. But even as 96% of hospitals now comply with government-certified EHR processes, they still face the same interoperability issues these decade-old acts aimed to address.
The pandemic paused enforcement for a time, but organizations now need to adopt solutions to avoid penalties to federal healthcare aid reimbursements.
Modern B2B integration software from CData Arc encourages organizations to standardize information exchange, keeping data formats consistent across diverse cloud and on-premises EHR software. Automated, standardized data exchange helps organizations write information once and disseminate it to partners and customers in a format they accept and understand — no back-and-forths to clarify file formats, definitions, billing codes, or other details. As a result, administrative time savings compound, regulations are met, healthcare organizations remain compliant, and streamlined operations bolster healthcare budgets across entire partnership networks.
Case Study: How Horizon Blue Cross Blue Shield Meets Strict Compliance Standards
Interoperability with insurance providers like Horizon Blue Cross Blue Shield of New Jersey ensures that patient care is uninterrupted at every touchpoint. To comply with new interoperability mandates, Horizon turned to CData Arc to quickly spin up a solution to map and ingest EDI documents received from external partners and translate the data to create FHIR-compliant documents.
CData Arc offers support for the Fast Healthcare Interoperability Resources (FHIR) file format, automating the translation and exchange of claims, EOB (explanation of benefits), and other critical documents to effectively futureproof healthcare EDI.
Reduce Siloed Decisions
B2B integration benefits go beyond basic compliance: Integrated healthcare also simplifies operations by increasing real-time access to clear information.
Regulatory initiatives like HIPAA EDI in the US and the Interoperability for European public administrations (ISA) funding program in the EU have yet to fully succeed in breaking down information silos for both patients and providers. For instance, a 2017 NCBI report revealed that end-stage renal disease (ESRD) patients endure gaps in critical medication delivery simply due to uncoordinated care.
Healthcare B2B integration solutions can propel these interoperability efforts by bridging EHR systems to form an accessible, complete picture of each patient's history. Integration automation technology delivers real-time medication record updates to help care providers, insurers, and pharmacists take life-saving action immediately.
Inventory management also improves with integration efforts. In the U.S. healthcare system alone, over $360M per year is lost to the 8.6M excess admin hours spent mitigating drug shortages. Poor forecasting limits the ability to predict supply disruptions, as seen during the pandemic. B2B integration solves this issue by coordinating and logging every step of the supply chain to provide a big-picture view of inbound and outbound resources. Where reactive action causes serious downstream care disruptions, B2B integration counters with proactive, automated processes to help interdependent care networks easily predict bottlenecks, ration resources, and redirect inventory.
Respond to Care Challenges Faster
Pandemic-era healthcare challenges highlight an immediate need for quick, data-driven decision-making.
Consider how pharmaceutical companies face mountains of regulatory bureaucracy that delay the development of new drugs. While administrative checkpoints provide an important avenue to ensure the safety and efficacy of new treatments, they also delay the development, review, and approval processes.
By directly connecting backend systems with regulators like the U.S. Federal Drug Administration (FDA), pharmaceutical companies can automate repetitive processes required to share information for drug approvals. Automation streamlines communication and reduces errors during the submission and review phases, allowing pharma companies to trim drug approval timelines and bring life-saving drugs to market faster.
CData Arc  provides a low-code B2B integration tool, alongside a robust data connectivity library, to enable healthcare organizations to connect, integrate, and automate their data-driven business processes. If you're ready to discover what faster, more reliable healthcare data process look like for your organization, start your free trial of CData Arc Cloud today.
<! -- END [CONTENT] -->