<! -- BEGIN [CONTENT] -->
New & Exciting in CData Arc: Import/Export Wizard & Embedded Sample Flows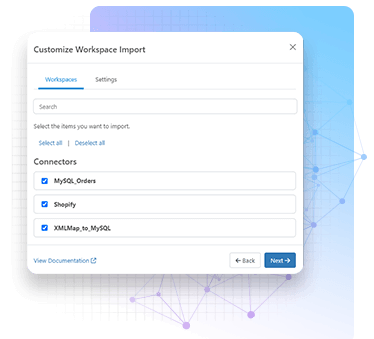 The latest release of CData Arc is now available! Please check out our latest version page to install the update immediately and without any additional cost. With this release, our Product team is streamlining the process of working with configured Arc Flows. We've improved this experience in two main ways:
Import/export wizard
Embedded sample flows
In this article, we'll walk you through these new features and how they make working with CData Arc Flows much easier for our users.
Import/Export Wizard
Importing and exporting configured Arc Flows is an important aspect of managing Arc at the enterprise level. While a single configured instance of Arc is sufficient to keep your data flowing, a robust infrastructure setup is likely to include the following:
Backups
Redundancy
Migrations
Of course, users have traditionally had the ability to import and export flows with Arc. What's new, however, is a friendly step-by-step wizard embedded directly in the application's interface to help ensure that you can easily import and export exactly the data that you want in exactly the format that you want it.
How Does It Help?
The Import/Export Wizard is really two different tools, depending on whether you are selecting flows and connectors to export, or adding configured flows to Arc's canvas via import. The value of the wizard can thus be understood from two lenses:
1. Export Wizard allows you to:
Add connectors by name instead of location on the canvas
Search across workspaces for connector names
Combine connectors from multiple workspaces
Visualize the collection of connectors to export
Include or exclude sensitive values like passwords
Protect sensitive exports so that they cannot be imported without a passphrase
2. Import Wizard allows you to:
Import entire .arcflow files or subsets from within them
Visualize the collection of connectors in import
Choose between manual or automatic conflict resolution during import
(Optional) automatically rename and overwrite existing connectors
Simplify renaming for conflicting connectors during import
Altogether, these improvements provide a simple, unified, and customizable experience when you need to migrate or duplicate your configuration within Arc. The ability to selectively import and export by connector instead of by workspace allows different teams managing different aspects of Arc to remain confident that they won't step on anyone else's toes.
Embedded Sample Flows
In our last CData Arc release, we were happy to announce a revamp of the Arc Sample Flows, freely available for Arc users. These target specific challenges and processes for industries like logistics & supply chain, retail & e-commerce, healthcare, suppliers & manufacturers.
In this release, we're extending your possibilities with sample flows by including these sample flows directly in Arc itself. Treating these sample flows like connectors gives users the ability to simply drag-and-drop any relevant sample flows into the canvas.
How Do They Help?
Arc Sample Flows provide a significant jumpstart when it comes to implementing industry-specific B2B solutions. While Arc's embedded flows cannot capture every aspect of your organizations business environment, they provide a templated starting point for building out and customizing your own solutions within the tool – helping you get started faster, and inspiring new ways to automate your B2B communications.
The sample flows help users visualize the flow design required for performing specific integrations, like integrating EDI files from your trading partner into your back-end system. In addition, the sample flows contain pre-configured data mappings that, while unlikely to perfectly represent your data, provide a realistic example that can be tweaked or used as a model for company-specific integrations.
What Sample Flows Are Included?
Arc's library of sample flows attempts to capture common use cases that affect companies involved in five areas of business that tend to involve B2B integration:
Logistics
Suppliers & Manufacturers
Healthcare
Retail
E-commerce
Many Arc Sample Flows involve integrations with specific EDI documents relevant to a particular industry. For example, integrating Purchase Orders into your back-end systems, and then automating the invoices that need to be sent out as EDI documents in response. For other industries like healthcare, this involves exchanging patient or claim data between healthcare providers and insurers.
For the full list of flows, simply see our library of Arc Sample Flows here.
Get Started with CData Arc
Haven't yet gotten your hands on Arc? We make it easy to try Arc for yourself with our free 30-day trial. Simply sign up and get started today!
If you're already an Arc user and would simply like to make use of the exciting new features, you can install the latest version here.
<! -- END [CONTENT] -->