<! -- BEGIN [CONTENT] -->
Simplify Event Processing with the All New Kafka Connector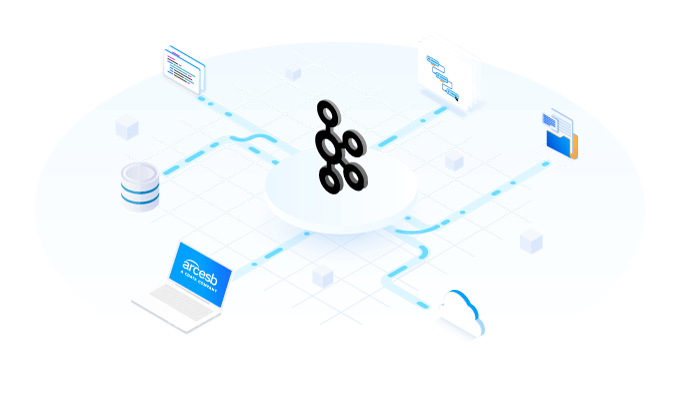 CData Arc embraces event processing capabilities with the newly available Apache Kafka connector. By connecting Kafka within your CData Arc workflows, you can easily access all the data you need in real-time to create successful event streams.
Event streaming is the process of capturing and storing data in real-time from event sources – like databases, applications, mobile devices, and cloud services – to then manipulate, process, and route to different destinations as needed. This allows data to flow seamlessly across your organization and ensures that employees can perform business-critical tasks using the most up-to-date and correct information.
Accessing data at the point of conception allows users to generate clear and comprehensive insights in real-time, ensuring that your organization can operate at the speed of modern business.
By incorporating Kafka into your electronic document interactions (EDI) and managed file transfers (MFT) capabilities, you can:
Process payments and financial transactions in real-time, such as in e-commerce orders, invoices, and payments upon receipt.
Track and monitor fleets and shipments to support logistical planning and supply chain operations.
Efficiently collect and process customer orders to ensure inventory systems are current.
Receive immediate alerts and quickly triage delays in shipments, orders, or payments.
Compile, store, and disseminate data internally and with trading partners, suppliers, or vendors.
Kafka and CData Arc
We've designed our connectors to be user-friendly. Leveraging CData Arc's robust, no-code workflow designer, it's quick and easy to consume data from Kafka within any ERP, accounting, analytics, or other business-critical systems. Drag the Kafka connection onto the workflow, drag the application connector that will consume the event data, connect the two, and you're ready to go. The information can flow in real-time or be scheduled to meet the needs of your business.
If you want to push data to a Kafka event stream, the process is the same in reverse. You can easily create and connect Kafka event streams from any supported file, application, database, or protocol connector.
CData Arc provides meticulous logging and message tracking features, allowing real-time visibility into how your data is moving across your enterprise. This transparency ensures that you never lose track of events. CData Arc also safeguards events as they are routed and stored, no matter the inception point or destination. All client-server communications support best-in-class encryption and compression across file and streaming formats (OpenPGP, AES, ZIP, JAR, and Gzip) and other robust enterprise-class security features, ensuring your data remains safe and protected..
Leveraging event-based transactions within your EDI and MFT processes has never been easier. Ready to take event-based interactions to the next level? CData can get you there.
Get started today: https://arc.cdata.com/apps/
<! -- END [CONTENT] -->